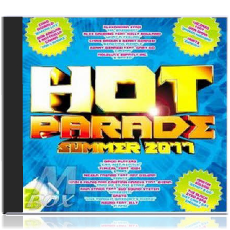 CD1
1.DON OMAR feat. LUCENZO "Danza Kuduro" 
2.BOB SINCLAR & RAFFAELLA CARRA' "Far L'Amore" 
3.RIVA STARR feat. SUD SOUND SYSTEM "Orizzonti" 
4.ALEXANDRA STAN "Mr. Saxobeat" bodybangers remix 
5.RADIO KILLER "Lonely Heart" 
6.AZURO feat. ELLY "Ti Amo" 
7.DJ ANDY & STELLA "Freedom" 
8.BENTU DE SOLI "Pearls Of Summer" molella remix 
9.R.I.O. "Miss Sunshine" 
10.E-TYPE "Back 2 Life" 
11.SIMON FROM DEEP DIVAS feat. GOODY "Disco Dancer" 
12.MAX BRAGANTINI aka MAX B "Samba Reggae" 
13.BINGO PLAYERS "Cry (Just A Little)" 
14.ERICK VIOLI feat. EL INDIO "La Linda" 
Bonus Track CD1
1.CARO EMERALD "Riviera Life" 
2.
THE BLACK EYED PEAS
 "Just Can't Get Enogh" 
3.CATALIN JOSAN "Don't Wanna Miss You" 
4.LEO ABERER "I Wanna Be Free" 
CD2
1.BENNY BENASSI feat. GARY GO "Cinema" 
2.TI.PI.CAL. feat. JOSH "Stars" 
3.ALEX GAUDINO feat. 
KELLY ROWLAND
 "What A Feeling" 
4.MARTIN SOLVEIG "Ready 2 Go" 
5.CHRIS BROWN & BENNY BENASSI "Beautiful People" 
6.NARI & MILANI and CRISTIAN MARCHI feat. SHENA "Take Me To The Stars" cristian marchi & paolo sandrini flow mix 
7.THE ALLSTARS feat. THE WOOD "Tonite" alex gaudino & jason rooney magnificent remix 
8.SHARAM feat. ANOUSHEH "Fun" funhouse mix 
9.ANYA "Beautiful World" 
10.BASTO "Live Tonight (Gregory's Theme)" 
11.CRISTIAN MARCHI & GIANLUCA MOTTA "Love Comes Rising" 
12.MOLELLA & SUPAFLY INC "X-Rated" molella & jerma radio mix 
13.NICOLA FASANO feat. KAT DE LUNA "Tonite" steve forest & nicola fasano mix 
14.
LUCA
 BELLONI & OMONIMO "Come Together" rudeejay remix 
Bonus Track CD2
1.HURTS "Sunday" 
2.BEADY EYE "Millionaire" 
3.BROOKE FRASER "Betty" international version 
4.
JAMIROQUAI
 "Lifeline"
Data de Lançamento: 01 Julho, 2011 Género(s): Compilação, Electrónica
 DOWNLOAD album